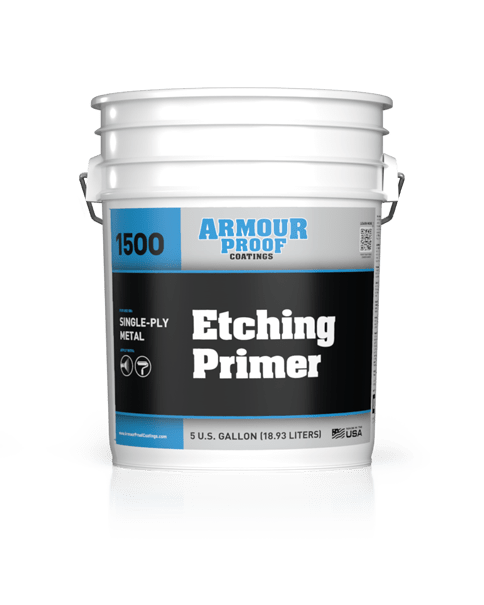 Prep Single-Ply for Coating
Fast-Drying  & Provides Strong Adhesion to Weathered & UnWeathered Surfaces
Description
AP-1500 Etching Primer is a solvent-based primer designed to maximize adhesion to surfaces that can be difficult to adhere to, such as TPO, PVC, Hypalon, Metal and a variety of other substrates. Armour Proof AP-1500 Etching Primer is a fast-drying primer that provides strong adhesion on weathered and un-weathered surfaces. AP-1500 is intended for use over a cleaned roof surface; contaminants such as dirt and debris prevent proper adhesion. AP-1500 is intended to be used in conjunction with an approved
Armour Proof Coating product
.
maximize adhesion to surfaces that can be difficult to adhere to, such as TPO, PVC & Hypalon.
Where to Use AP-1500 Etching Primer
To Ensure Proper Adhesion
Application
Apply AP-1500 Etching Primer until roof appears to be a consistent charcoal color. Apply primer with small airless sprayer or a medium nap roller. Over-application or use of multiple coats can reduce adhesion performance. AP-1500 should be top coated within 7 days.
Coverage Rate
Apply at a rate of 330 square feet per gallon (0.33 gallons per square). Additional material may be required for porous substrates.
Preparation of Substrate
Surface must be pressure washed clean, free of all loose particles, dirt debris and other contaminants that could inhibit adhesion. Refer to the Armour Proof Coatings Specification for detailed instructions on how to prepare the specific substrate.
Limitations and Precautions
AP-1500 should not be applied when it is raining or when the threat of rain is imminent. AP-1500 should be applied in only one coat. This product contains flammable solvents and is intended for use by professional contractors only. Adhesion tests should always be performed to ensure suitability of use.
Storage & Shelf Life
AP-1500 is a solvent-based primer. Do not apply when ambient air and substrate temperatures fall below 35°F or when inclement weather is forecasted. AP-1500 should be stored between 40°F and 80°F. Shelf life in unopened containers is one year from the manufacture date.
Warranty
This product will perform as claimed if directions are followed. Armour Proof Coatings cannot control conditions of application and substrate, or methods used. This warranty is limited to replacement of the defective material used, and does not include labor or labor costs.
Use as Part of a System with these products: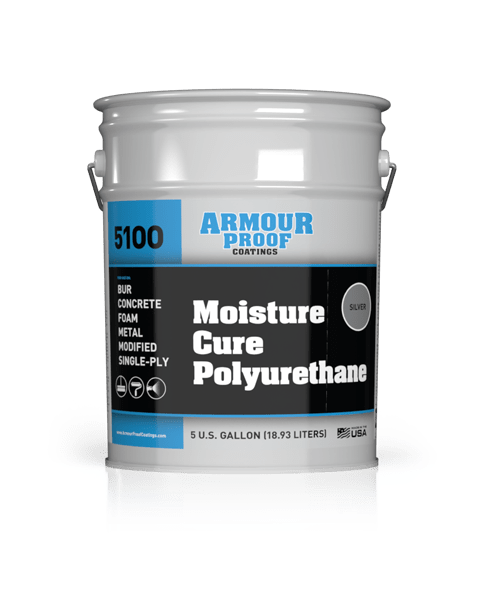 AP-5100
Moisture Cure Polyurethane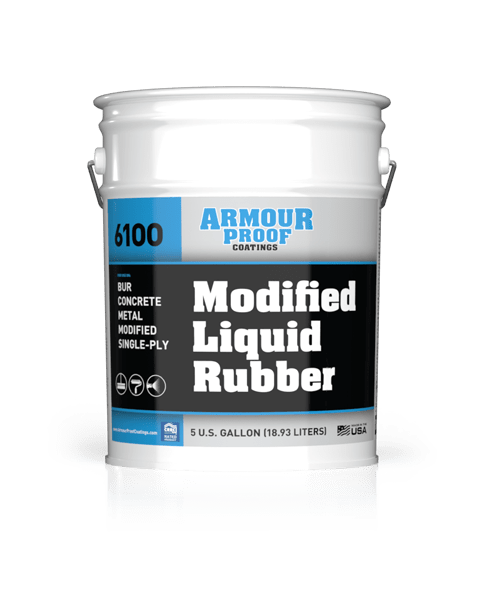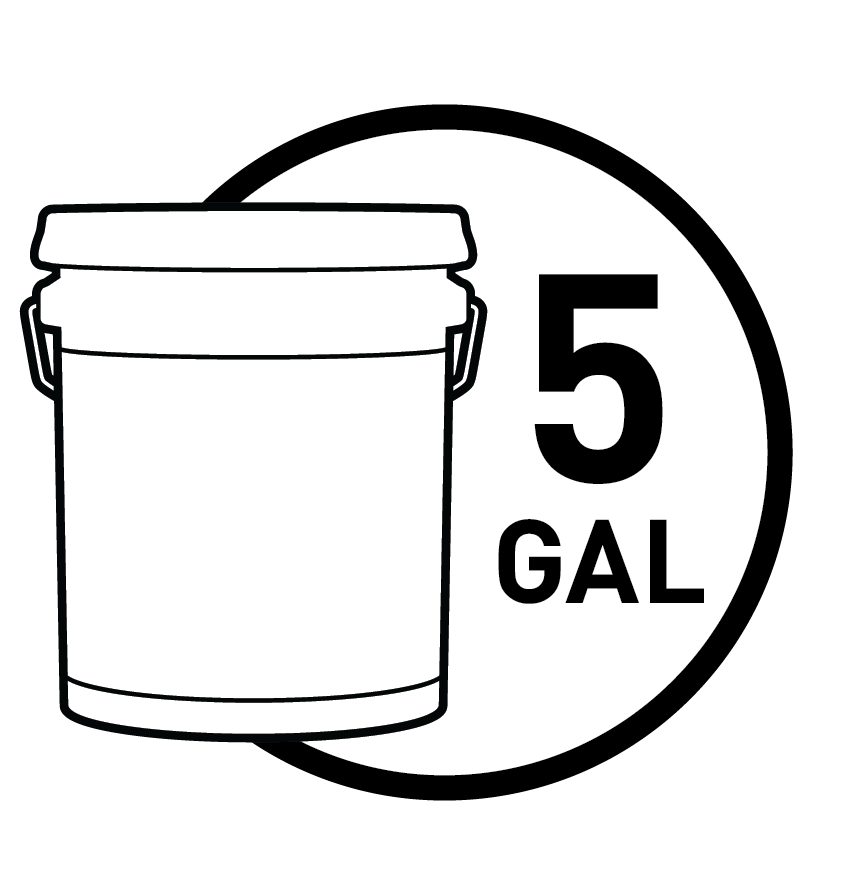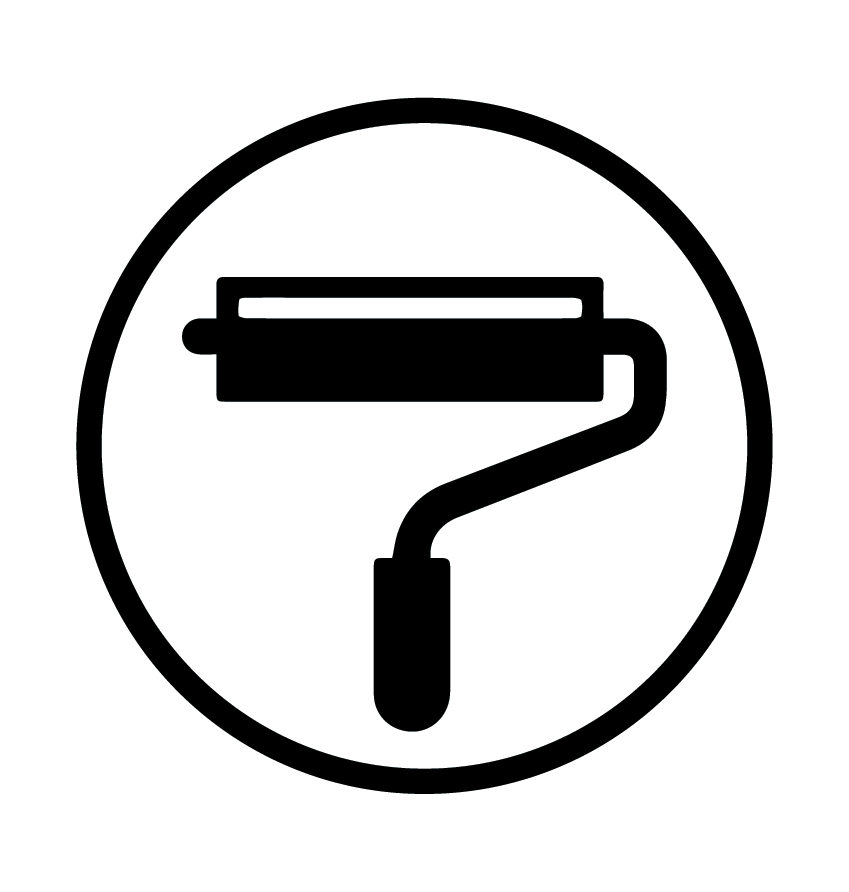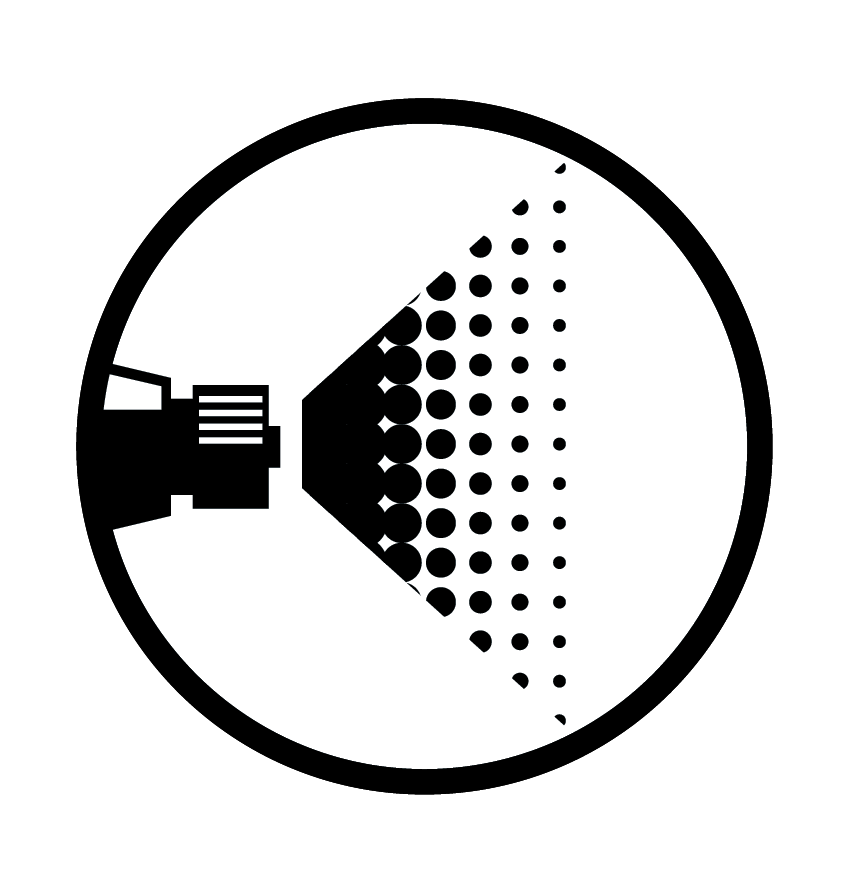 Available From These Distributors
Click a logo to find a location close to you.
Grow Your Roofing Business
Become an approved applicator of our Armour Proof Coatings systems and gain the perks of being a trusted and approved contractor. Benefits include project referrals, marketing assistance, product trainings & more!
Have Additional Questions About
AP-1300 Acrylic Primer Sealer?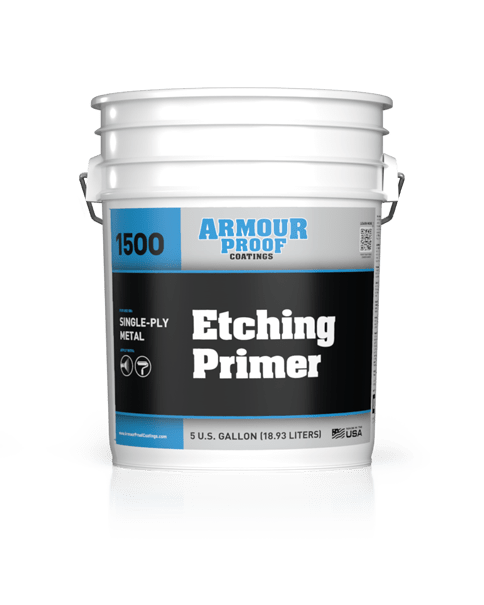 Looking for information on Warranted Roof Coating Systems?
Have a product specialist reach out to answer any questions you have.
Please fill out the below form completely and we'll be happy to get in touch with you!
New Inquiry for AP-1500 Etching Primer