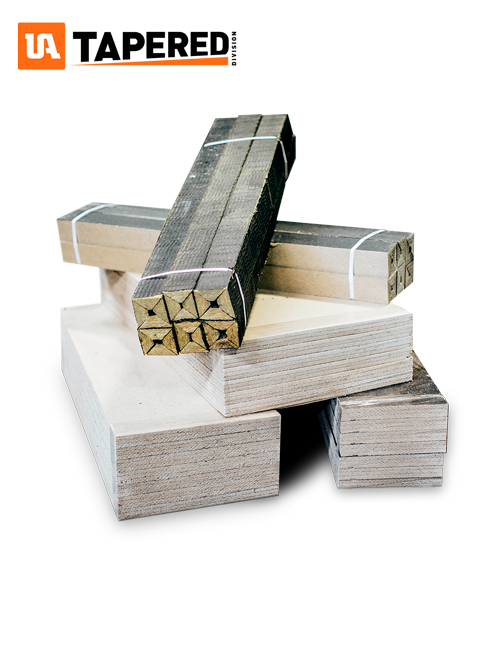 Provides a smooth, positive, transitional slope ensuring proper roof drainage on flat roof systems.

Manufactured In & Shipped from New Jersey.
Description
Tapered Edge is used to provide positive slope on a flat roof system. This ensures proper roof drainage and slope to keep ponding water off the roof surface. Tapered Edge is also use to provide a smooth transition from Tapered Insulations to roof level. Our Tapered Edge products are currently available in Wood-Fibered & Perlite materials.
Our tapered insulation roof products assist in the promotion of and design of positive drainage to ensure longer roof systems.
Wood Fibered Tapered Edge
Why Fiberboard?
Wood Fiberboard is often chosen for re-roofing projects and acts as a layer that seperates the old roof from the new roof. It works well with EPDM Bonding Adhesive & Modified Roofing.
Our Wood-Fibered Insulation board conforms to ASTM C 208.
Features & Benefits of Fiberboard
Dimensionally stable

Environmentally friendly, 100% recyclable

May contribute to LEED credits

Cuts with a knife
Fiberboard May Help Contribute to LEED Credits:
MR Credit 4: Recycled Content
MR Credit 5: Regional Materials
MR Credit 6: Rapidly Renewable Materials
IEQ Credit 4.4: Low-Emitting Materials –
Composite Wood and Agrifiber Products
Why Perlite?
Perlite is typically chosen or spec'd for Asphalt-Based Built-up Roofing Systems. As it is not wood-fibered, it tends to be less flammable than Wood-Fibered insulation board.
Our Perlite Insulation Board Conforms to ASTM Standard C728 as well as UL Flame Spread Rating 25.
Features & Benefits of Perlite
25% post-consumer recycled content and comply with the Environmental Protection Agency Regulation 40 CFR Part 248
Perlite May Help Contribute to LEED Credits:
MR Credit 4: Recycled Content
MR Credit 5: Regional Materials
Where to Find our Products