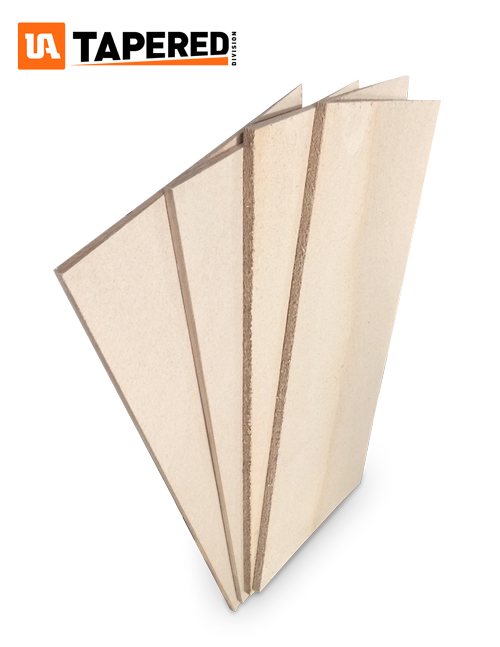 Provides a smooth, positive, transitional slope ensuring proper roof drainage on flat roof systems.
Manufactured In & Shipped from New Jersey.
Description
United Asphalt Company has the capability to cut Tapered Panels to various sizes.
1/8″ Incline 2′ x 4′ Panels
1/4″ Incline 2′ x 4′ Panels
1/2″ Incline 2′ x 4′ and 4′ x 4′ Panels
Our tapered insulation roof products assist in the promotion of and design of positive drainage to ensure longer roof systems.
Why Fiberboard?
Wood Fiberboard is often chosen for re-roofing projects and acts as a layer that seperates the old roof from the new roof. It works well with EPDM Bonding Adhesive & Modified Roofing.
Our Wood-Fibered Insulation board conforms to ASTM C 208.
Features & Benefits of Fiberboard
Dimensionally stable

Environmentally friendly, 100% recyclable

May contribute to LEED credits

Cuts with a knife
Fiberboard May Help Contribute to LEED Credits:
MR Credit 4: Recycled Content
MR Credit 5: Regional Materials
MR Credit 6: Rapidly Renewable Materials
IEQ Credit 4.4: Low-Emitting Materials –
Composite Wood and Agrifiber Products
Why Perlite?
Perlite is typically chosen or spec'd for Asphalt-Based Built-up Roofing Systems. As it is not wood-fibered, it tends to be less flammable than Wood-Fibered insulation board.
Our Perlite Insulation Board Conforms to ASTM Standard C728 as well as UL Flame Spread Rating 25.
Features & Benefits of Perlite
25% post-consumer recycled content and comply with the Environmental Protection Agency Regulation 40 CFR Part 248
Perlite May Help Contribute to LEED Credits:
MR Credit 4: Recycled Content
MR Credit 5: Regional Materials
Where to Find our Products